Source: The Parkland Rebels Are Model Children – The Atlantic
Today's Rebels Are Model Children
The young protesters now on the march are responsible and mature—and they're asking adults to grow up.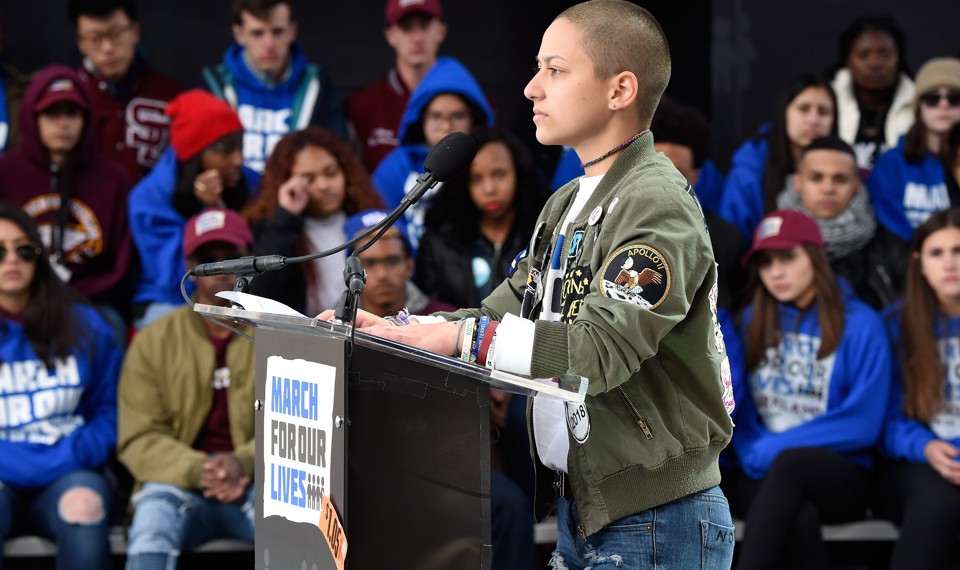 Anyone used to worrying about coddled young people, their backbone eroded by oversolicitous elders and smartphone addiction, was in for a surprisingly mature show of spine at last weekend's March for Our Lives. The Parkland, Florida, survivors-turned-prodigy-activists and their followers—along with Dreamers and other youthful protesters lately—couldn't possibly be denounced as out-of-control "bums," President Nixon's epithet for (older) student protesters half a century ago.

Quite the contrary. These young people do grit and gumption with star-pupil poise and politeness. "Sorry for the inconvenience," read one teenager's sign at the Washington, D.C., rally. "We're trying to change the world." Nearby, a kid proudly waved a neon-orange poster that proclaimed, in big letters, "GPA > NRA." The call-and-response chant that carried the day, under the direction of Martin Luther King Jr.'s 9-year-old granddaughter, conveyed the same overachiever zeal: "Spread the word all across the nation, we are going to be a great generation." The Parkland student Emma González's feat of silence at the podium, as the writer Nathan Heller tweeted, defied category: "the fact that it was conceived—and dared—by a high-schooler is breathtaking." The adults on hand didn't presume to boss off-the-charts performers like these around.  "If you don't listen to them now," read one woman's poster, "they won't listen to you later."

Last weekend's march was not the first evidence of super-upstarts, aggrieved youths totally on top of their game in a way that few grown-ups in political life are these days. Two months ago, more than 100 sports-prodigies-turned-public-survivors made national headlines as they delivered their stunning version of the same call—protect us, and listen to us. At the sentencing hearing of Dr. Larry Nassar, convicted of serially abusing athletes under his care, his victims powerfully yoked personal trauma to a systemic indictment. "Adult after adult, many in positions of authority, protected you," said the former captain of the phenomenal U.S. Olympic gymnastics team, Aly Raisman, staring straight at Nassar. "How do you sleep at night?… You are the person [the USA Gymnastics and the U.S. Olympic Committee] had 'take the lead on athlete care.'… I cringe to think your influence remains in the policies that are supposed to keep athletes safe."
The reverse side of the "Sorry for the inconvenience" sign at the march aptly summed up the unexpected generational dynamic on public display: "When our children act like leaders and our leaders act like children you know change is coming." Today's young protesters—the Dreamers have been at this for a while—aren't extremist misfits, or out-of-control tweeters, or squabbling grandstanders. Their trademark is breaking the mold by being the ultimate model children. They win gold medals at the Olympics, write 50-page term papers on the U.S. gun-control debate, excel at the piano (as the girl who first inspired Senator Dick Durbin's DACA mission did). They strive not just to fit in but to soar in America.
As disciplined achievers, they aren't just a stark contrast to their shaggy 1960s forebears—viewed by their elders as "vagabond dropouts in a vaguely academic orbit," Renata Adler wrote in a New Yorker piece about student organizers back in 1965. More relevant, they subvert stereotypes of Millennials and Gen Z kids as needy snowflakes. Young people, the refrain goes, have been hovered over at home and cosseted by "trigger warnings" and "safe spaces" at school. Immersion in social media has corroded their attention spans, mental health, interpersonal relations, and agency in the real world.

Yet the recent upsurge of youthful activism doesn't look much like a symptom of arrested development or fragility. The triggers that these kids are worried about are physical, not just psychological (guns are a leading cause of death among 15-24 year olds). No critic could construe their demand for safe spaces as a request for fainting couches; they're talking about classrooms and doctors' examining tables. Being traumatized hasn't inspired this cohort to retreat. The Parkland kids were ready for more than quiet, private mourning,  and student leaders wasted no time in getting busy. Savvy about social media, they have been insistent about the need for real—not just virtual—contact and action. Rallying their peers hasn't been hard.

Especially against the backdrop of current anti-establishment fervor, what stands out are the conventional priorities that seem to unite these student activists today—and the fact that those priorities represent an endorsement of mature responsibility. Kids demand that their voices be heard, but they aren't pushing back against adult vigilance. They want more of it, not less. They're campaigning for higher age limits for gun ownership. They want tough and consistent oversight, in the form of universal  background checks for gun sales, rigorous "athlete care," coherent immigration laws.

Youth is impatient, of course. "We don't like to wait for things," a speaker at the march warned. How, Raisman demanded, could adults have blithely dismissed athletes' complaints, year after year? Yet at the rallies, as in the courtroom, the more striking message was that adults shouldn't assume kids are counting on instant gratification. They're not stupid. They know first-hand how grownups stall, how distractions intervene. "Never again" is meaningless, Raisman insisted, until everyone implicated in the Nassar scandal is held accountable, however long it takes. "Vote them out" is a rousing chant, but "this will be hard," a teenager at the D.C. podium emphasized. "Do you have the will?" Or as another put it, "This isn't Coachella, this isn't the Oscars. This is real life. This is reality."

Fast-track kids are in a hurry, eager for glory—but they've also learned from experience (just ask Raisman) how much grueling work is entailed to get there. And the Parkland standouts need no reminders of how lucky they are to have the chance to keep slogging away, day after day. It's the rest of us who do.